I've always enjoyed a party, even as a young child.  Hopefully, you can look back in time and imagine a time that a family member or peer threw a party in your honor, a special occasion, or celebration.  One of our favorite services is to offer special festivities for our older adults.
I remember meeting Ed for the first time.  He was short in stature yet big in personality.  I still grin from ear to ear thinking of Ed and how he filled up a room.  Articulate and extremely expressive, Ed knew exactly what he wanted for himself.  He had just lost the love of his life. They had lived many special years together which wove many treasured memories of her for him.  He was quick to fall into stories of their times together.  During the brief time we worked with Ed we threw three birthday parties, each one more special. All were attended by different guests who were equally as entertaining, well received, and celebrated.
It has been our pleasure and privilege to celebrate these special times through the years. We have enjoyed birthdays like we celebrated with Ed, organized special anniversary parties, and date nights. We've organized outings with sweet parrots, cats and/or dogs, arranged deliveries of monthly flower arrangements, trips to the Oregon Gardens or around the world, just to name a few.
Some reasons families reach out to us for these services include but aren't limited to:
Families live far away and arriving for every holiday, anniversary, birthday, special work anniversaries is not sustainable
During a global pandemic visiting often can be prohibitive and unsafe
Other life conflicts, such as work or children's events that occur can pose scheduling conflicts
Distant relationships can be challenging for some
Occasionally one's medical advisor recommends no travel for a period for ongoing health and wellness, making these special occasions impossible
Contact your Aging Life Care Manager and they would be glad to set up special services on behalf of a family member and/or friend.
Life Enhancement Services – what are they and why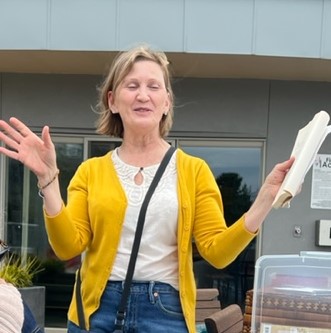 Colleen Vass, Life Enhancement Specialist
Life Enhancement Services are a unique service for the community and many older adults.  Our clients and their families have benefited from this service for over 3 years through Aging Advisors.  We noticed that many families needed a short, supported moment so that they could run errands, pick up prescriptions, meet a friend coffee and keep their social connections alive, or to exercise at the gym ensuring that they can continue to physically support and care for an older adult in their life.
Our Life Enhancement Services are extensive and focus on an individuals cognitive and physical abilities, encompassing their passion of the moment and taking into account their hobbies, interests and past activities.  Variety is certain, and our Life Enhancement Specialists are skillfully attuned to an individual and their wishes of the day. Examples of how our clients have benefitted from these services has included: VR games, personalized art projects, visiting a gifted piece of art at a local museum and touring along with the curator, volunteering their time at an animal shelter, adventuring to a local music festival, listening to their favorite author being read aloud during a cool summer afternoon, or going for a walk outside enjoying the first blooms of spring with a favorite dog by your side.
There is no end to personalized experiences that we provide once to twice a week, each a minimum of 2 hours.  Our specialists transport the client, if necessary, to the activity and they will have door to door experiences.
Contact our main Office Manager or Aging Life Care Manager to inquire about these services for an older family member and/or friend.
Categories:
Uncategorized