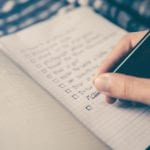 Perhaps you had an extremely busy life and finding time to prepare for your health care appointments, let alone someone else's is challenging.  If so, this list will be a helpful check off list to know what to bring to the appointment and how to be best prepare.  Preparing for an appointment is crucial to ensure the success of the upcoming appointment.
Prepare, prepare and prepare.  Unless you've been to your primary care provider's appointment more than 30 times this front office will still need to see your insurance card, some type of state and/or government provided identification card at your first and subsequent appointments and some form of payment.
Keep track of all your medications and supplements that you are taking in the form of a list and bring a copy of that list with you.
If you track your appointment history with other health care providers in a journal, notebook or other digital system, be sure to bring that history with you.
Create a "To Go Bag" with supplies that are needed when you are on outings to appointments. Some items to consider in this bag are: water bottle, food snacks or meals depending on timing of appointment, if diabetic, then glucose tabs, your CBG monitor, and sliding scale insulin depending on time of day, back-up incontinent supplies, change of clothing (upper or lower depending on health care challenges) and reading material for long clinic waits.  For those with mobility challenges be sure to pack any devices that you use such as cane, walker or wheelchair.
Medications and supplies needed for your medication. If traffic is unpredictable then be sure and bring medications that you might need within 2 -3 hours of your appointment.  Be sure and bring food or liquids that you take with your medications.
Directions to the clinic and/or appointment location and money for gas. If you or your driver hasn't been to this clinic location it is always a good idea to have back up directions to ensure you will arrive timely.
Aging Life Care Managers will work with you and/or your older adult and their care provider to ensure that these essentials are always a part of a healthcare appointment.  In these busy days, knowing that your older adult will arrive on time with the supplies they need to ensure that the main purpose of talking with the physician and reviewing health challenges will be discussed can be a huge relief.
Joyce Sjoberg
Aging Life Care Management
Categories:
Uncategorized