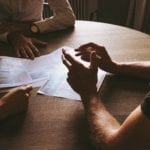 As care managers, we pride ourselves on our willingness and ability to take on complex cases, and to do our utmost to help clients and their families when they find themselves in what seems like an impossibly difficult situation.  We learn from and are grateful for the experiences where we succeed as well as those where we wish we could have done more. Today, we'd like to share the story of a very complicated case where the resolution fell short of our expectations, with the hope that we can share some lessons learned with those who may benefit from our experience.
We were contacted by a family member, Miranda, whose father had recently passed away, leaving her to become a decision maker on behalf of her aunt, Cory. The two were close, and Cory had been blindsided by her brother's death. They lived on opposite sides of the country.  Miranda lives here on the west coast and Cory lived in a nursing facility on the east coast requiring full assistance and care because of her Primary Progressive Multiple Sclerosis. Miranda's goal was to bring her aunt to live closer to her home in Oregon, so that she could visit with her and oversee her care in person.  She had visited Cory recently and they had discussed the move. Cory, a nearly lifelong New Yorker, was on board and wanted to be near her niece. She looked forward to Oregon's natural beauty, visits from Miranda's cats, and a smaller facility.
At Aging Advisors, we have successfully moved many clients from one state to another.  However, from the beginning of this case, many obstacles emerged that prevented Miranda and Cory from achieving their goal.  One of the primary challenges was the communication with the nursing facility in another state. Phone calls were not returned, medical records were not released, and, when reached, staff expressed deep concern that Cory would not be able to withstand the physical challenges of a transcontinental flight.  We took this concern very seriously, as we did not want the travel to be uncomfortable for Cory, and discussed the concerns and her condition at length with their staff. Her neurologist's office also assessed her and indicated that with the proper assistance and support, she would be able to make the flight. Our agency has a Aging Life Care Manager with a background in nursing who is skilled and experienced in accompanying clients at every step of their travel, so we were confident that a safe flight was possible. We even looked into private medical transportation, in the event that it was determined that flying commercial was not possible. We were quoted $50,000 for this option, effectively taking it off the table.  
However, even with the support of the neurologist, we experienced ongoing resistance and lack of cooperation from the nursing facility staff. We spoke with them at length about steps that we could take during the journey, as well as services (such as appropriate physical and occupational therapy) that they could provide before the planned travel date to prepare her for travel.  We also had many discussions with various staff about the lack of treatment for a long standing struggle with depression. The response from the facility was inconsistent and vague, with a troubling lack of follow through. Eventually we had to involve the Ombudsman's office in the state where the facility was located, although we learned from them that these conditions were sadly not unusual in this area, and there was no satisfactory resolution through this avenue either.
Further complicating completing a plan to move Cory were challenges related to her legal and financial affairs.  The first obstacle we tackled was the fact that she had no photo ID whatsoever. We went so far as to contact the state DMV office, who were unable to find any record of her ever having had a license. It was unclear whether she had had any state ID or if the records had been lost. Meanwhile, her passport, which she had definitely had, and any other forms of photo identification were nowhere to be found, likely lost by previous nursing facilities.  Given that Cory was completely bedbound and had to be transported by stretcher to her doctor's offices, it seemed to be an immense challenge to procure her with appropriate documents for travel. Luckily, a friend of Miranda's pointed out to her that the TSA actually has some exceptions and alternate documents that can be accepted for travel, so eventually we decided that we would go that route and hope for the best!
Even stickier were the issues related to Cory's bank accounts, as funds were needed to cover her travel expenses.  Miranda had been appointed as her power of attorney (POA) and her health care representative. However, Miranda was neither her conservator nor her guardian.  In this case, the differences between these legal designations became very important. One of the most frustrating and longest-lasting struggles that we faced was in attempting to get the bank to change the POA on her account from Miranda's father (Cory's brother) to Miranda.  Months of written correspondence and calls to customer service were fruitless, sometimes even resulting in overt hostility and cruel accusations towards Miranda. A key difficulty seemed to be that this bank had no branches in the part of the country where Miranda lived, and there was no feasible way to get Cory to a local branch in her area, let alone the one where she opened the account in a different part of the state. Additionally, even if we had undergone the process to get her there, we were uncertain what would then happen, as she had no photo ID! Eventually the services of Oregon Elder Law were required to successfully gain control of the account by the POA. Access to the account was finally granted…just a few hours before Cory's death.
The final, and ultimately decisional, factor in Cory's case was that she was repeatedly hospitalized during the time we were working on planning her move, and with each hospitalization, we had to put our plans on hold for a time to see how it would affect our plans.  Additionally, during the year that Miranda became POA and medical proxy, Cory had made changes in her POLST, from being DNR to being full code. This was also a deeply personal and challenging situation for Miranda, as she felt strongly that her responsibility in decision-making was to follow her aunt's wishes.  
During Cory's final hospitalization, we helped Miranda communicate with the ICU physicians and Cory's longtime neurologist. Ultimately, she decided she needed to go to the hospital and be with her aunt.  We are very grateful that she made that decision and was able to be with her aunt when she passed away. During that difficult visit, Miranda also had to make decisions about Cory's burial and a decision she felt strongly her aunt would have wanted: Donating brain tissue for medical research on Multiple Sclerosis.  Thanks to the bank finally deciding to grant Miranda the access to which she had been legally entitled all along, she was able to make burial arrangements for her aunt, as after Cory's death the finances went into probate and there would not have been funds for final expenses.
What can we learn from this difficult case?
One lesson from this experience is how critical it is to have a care manager on the ground and in the facility, someone  who is directly interfacing with the resident, staff and, if necessary, Ombudsman's office. There were some logistical and financial obstacles to this step in this case, but it illustrates the critical need for involvement of a care manager when you are far away from your loved one.  Whether or not the eventual plan is for a move, having a care manager to visit and make an in-person assessment is extremely valuable, especially if you have concerns about the quality of the care they are receiving.
Ensure that important documents, such as photo identification, are kept current and in a safe place.  If the facility requires that these documents are kept on site, photograph or copy the ID's so that you have the pertinent information. Then, document carefully who has these documents and where they are kept. Next, get signatures on inventory forms.  If there is more than one kind of ID, keep them in separate safe places and consider a safe deposit box (of course, then you have to have a safe place for the key that more than one person can keep track of!).
When choosing a financial institution to hold the POA account, go into a branch in person, and discuss what their protocols are with the branch manager.  Many rules are in place for the protection of the client, and many of the obstacles we faced were probably caused by the bank's justifiable concerns surrounding the potential financial exploitation of older adults.  However, it is imperative that the individual who takes on the responsibility of acting as POA can access the tools to carry out their job. Have a succession plan, especially if the POA or health care representative has health or other limitations of their own that may prevent them from carrying out their job.  Consider choosing a bank that either has branches in both areas, if you are separated from your loved one, or if you prefer a local bank or credit union, discuss in person what the options for long distance operations will be.
After discussing this scenario with an experienced elder law attorney, Megan Fuhrer with Nay & Friedenberg, we learned that many banks now require that their own internal POA paperwork be completed in order for them to recognize the POA.  Another option Megan suggests exploring the option of a trust with an elder care attorney, and setting it up with the POA as the trustee.  That way, the trustee would control assets within the trust, such as bank accounts and other assets, such as a home. This structure is also helpful as the trustee's authority extends past death, meaning that probate would not hold up finances for burial expenses.  However, even with this type of trust, the person whom the trustee is serving would still need a POA to control assets outside the trust, such as retirement accounts.
Be as thorough and detailed as possible when establishing all documents for legal arrangements such as the POA, health care representative, guardian, conservator, POLST, advance directive and burial or cremation arrangements.  Address them as early as possible in your relationship with the person whose care you will be involved with. These are sensitive and difficult topics, but having these conversations is much harder when the client is unable to speak or decide for themselves. This is why it is important that you gain clarity and understanding of their values and what they want. Furthermore, contact an elder care attorney and discuss which documents and arrangements are going to work best for everyone involved.
Finally, our message for family members and friends who take on the difficult and challenging work of acting on behalf of a loved one is to be gentle and forgiving with yourself.  This is incredibly complex work, and there are no easy answers or shortcuts. Remember you are doing the best you can with the resources you have and ask for and receive help as you are able.  Our hearts go out to Cory's family, especially Miranda, in their grief. They want others to know about Cory's story, and to consider contributing to research on Multiple Sclerosis if they are able.  We would also like to acknowledge the MS Society and the role they played in this case, making our work with Cory possible through the Edward M. Dowd Personal Advocate Program.
Written by Bethany Wofford, MSSW
Categories:
Aging Life Care Management