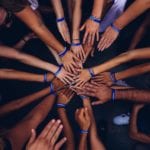 Living with Parkinson's Disease (PD) can be stressful.  Let alone managing potential symptoms from the disease, possible side effects from medications and trying to keep track of all your upcoming appointments can be too much to manage on your own or even from one who is your identified care provider.  Here are 6 crucial members to invite to your table to ensure you have the support of your health and wellness as well as keeping your stress to a minimum.
Primary Care Provider (PCP) – Your primary care provider is the individual who completes your annual wellness check (covered by Medicare insurance), prescribes your medication, and refers you to the other members on your care team. Their role is to understand your overall health concerns and challenges, ensure that you have a plan to address these concerns and to work with you to update as necessary.
Neurologist and/or PD Specialist – Depending on where you live you will have one or both of these specialists. You are more likely to find a movement disorders department of a large medical system, typically found in larger urban areas than you will in rural areas.  If you are rural then working with a neurologist to manage your PD symptoms will be acceptable.  These physicians are tracking possible new symptoms, recommending therapies, medication and potentially new research to address your symptoms.
Aging Life Care Manager – An experienced care manager on your team cam assess your personal and home care needs, make recommendations, coordinate care approaches and services and re-evaluate with you. They will also accompany you to and from Dr.'s appointments, noting what transpired, track all recommendations and to coordinate any and all therapies ongoing.
Nurse – Nurses are often found in clinics alongside the PCP and/or PD specialist. They can be helpful ensuring that all referrals are placed, that caregivers (paid or unpaid) have the information and/or training they need to help provide care.
Medical Social Worker (MSW) – Social workers are also found in conjunction with medical clinics. Their role is to provide resources for you and your caretaker.  They can help you find community resources, provide short term counseling and guide you in helping with financial and legal documents.
Physical Therapist (PT) – A physical therapist is usually referred in through your insurance rehabilitation benefit. They are helping in providing physical therapy; helping with gait, posture and strengthening and balance.  They are able to provide home safety evaluation and make referrals for durable medical equipment.
Occupational Therapist (OT) – A occupational therapist is usually referred in through your insurance rehabilitation benefit. They can be part of a clinic (for those who are mobile) or come to your home (if you are home bound.)  Their focus is to assist you in completing your activities of daily living (ADL's).  They help with skills around bathing, grooming, transferring, walking, eating and toileting.  They will recommend specialized equipment, if necessary.
Speech Language Therapist (SLP) – A speech and language therapist is also part of your rehabilitation team. Their focus is on language, communication and swallowing disorders.  They are able to provide therapy, exercises and make recommendations for equipment that helps you to continue to communicate with others and to help to prevent swallowing and choking problems.
All in all, this team is crucial to assemble to ensure you are supported through your PD disease process.
Joyce SJoberg
Aging Life Care Manager
Categories:
Uncategorized